Page 10 - KLIPP-Volumen-Herbst-Winter-2022
P. 10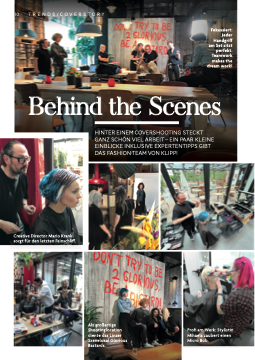 10 TRENDS/COVERSTORY
 Fokussiert: Jeder Handgriff am Set sitzt perfekt. Teamwork makes the dream work!
   Behind the Scenes
 HINTER EINEM COVERSHOOTING STECKT GANZ SCHÖN VIEL ARBEIT – EIN PAAR KLEINE EINBLICKE INKLUSIVE EXPERTENTIPPS GIBT DAS FASHION-TEAM VON KLIPP!
   Creative Director Mario Krankl sorgt für den letzten Feinschliff.
    Als großartige Shootinglocation diente das Linzer Szenelokal Glorious Bastards.
Profi am Werk: Stylistin Mihaela zaubert einen Micro Bob.